Disabled Model Invited to Speak About Diversity Couldn't Get to Podium Because There Was No Wheelchair Ramp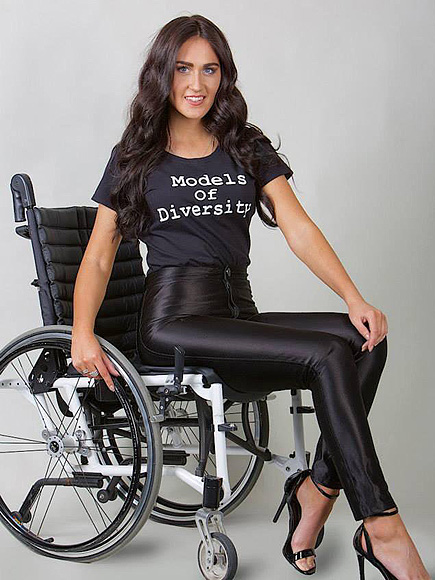 MODELS OF DIVERSITY
Chelsey Jay was thrilled to be asked to speak about model diversity at The Clothes Show, a live fashion and beauty event in the U.K. But when she arrived on Tuesday, she learned her panel had started early – and there was no wheelchair ramp for her to get onto the stage."They started the seminar without me (10 mins early) and the stage was unaccessible, I'm so humiliated," Jay
tweeted
.
The 24-year-old, who is the Director of Disability for the group Models of Diversity, said in a statement that she had been communicating with The Clothes Show directors for over a year about their exclusion of models with disabilities.
So when they invited her to be a featured speaker, she was happy to brave the difficult trip – a four-hour journey on three different trains – to attend.
Although she'd been told a ramp would be made available, Jay felt like it was no longer an option due to the event starting early.
"Now I would be interrupting a room full of strangers and they would all be sat in silence seeing me pushed up a ramp onto the stage – I thought I was going to have a panic attack," she said in a statement.
"I felt sick. I couldn't believe it. I took a photo of the stage to show to my CEO Angel Sinclair and left before I burst into tears in front of everyone."
Jay said she was upset and contacted one of the organizers. "She instantly rung and texted me, but I was in no fit state to talk to her at this point, I just wanted to leave. She has emailed and texted apologies to which I have not responded."
On Thursday, the Clothes Show issued a public apology,Inside Edition reports. The show "invited Chelsey Jay to this year's event as a guest, and due to genuine human error the access that she required to take part in our seminar was not made available on time," the organizers said.
Jay and Models of Diversity have started a petition to enforce employment laws for disabled workers in the modeling industry.